Convegni SIGA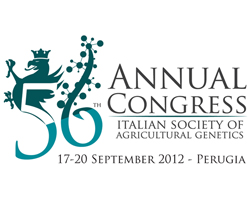 LVI SIGA Annual Congress
Perugia, 17-20 September 2012
Organised by:




Dipartimento di Biologia Applicata
Universita' degli Studi di Perugia




Consiglio Nazionale delle Ricerche




Istituto di Genetica Vegetale











Under the patronage of:



REGIONE UMBRIA















With the support of:
















CONSORZIO INTERUNIVERSITARIO NAZIONALE PER LA BIOLOGIA MOLECOLARE DELLE PIANTE




Parco Tecnologico Agroalimentare dell'Umbria












CGS Sementi SpA




Consorzio Nazionale Sementi








Società Produttori Sementi SpA







Session 1 - Plant reproduction for crop improvement

INVITED LECTURE

1.01
Koltunow A.M.G. - Unravelling apomixis: asexual seed formation for agricultural crop improvement
1.02
Lawit S., Chamberlin M., Agee A. - Dupont Pioneer's paths towards self-reproducing hybrids
1.03
Crismani W., Mercier R. - FANCM limits meiotic crossover
1.04
Sharbel T.F. - Evolutionary approaches to deciphering the functional switch from sexual to asexual (apomictic) reproduction in natural plant populations
1.05
Bouzayen M., Wang H., Zouine M., Yang Y., Mila I., Frasse P. Van Der Rest B. - ARF and Aux/IAA proteins in the developmental transition leading to fruit set in the tomato


ORAL COMMUNICATIONS

1.06
Cremona G., Aiese Cigliano R., Termolino P., Paparo R., Consiglio M.F., Conicella C. - Histone hyperacetilation affects recombination in Arabidopsis male meiosis
1.07
Albertini E., Marconi G., Conner J., Galla G., Masiero S., Sharbel T.F., Colombo L., Barcaccia G., Ozias-Akins P., Falcinelli M. - Differential expression in sexual and apomictic genotypes of three model species strengthens a crucial role of apostart in the formation of seeds by apomixis
1.08
Galla G., Sharbel T.F., Barcaccia G. - De novo sequencing and annotation of the Hypericum perforatum flower transcriptome
1.09
Mascheretti I., Rossi V. - The role of the chromatin remodelling factor nfc102 in the maize flowering pathway
1.10
Mizzotti C., Mendes M.A., Caporali E., Schnittger A., Kater M.M., Battaglia R., Colombo L. - Maternal control of fertilization and seed development
1.11
Cecchetti V., Petrocelli V., Falasca G., Altamura M.M., Costantino P., Cardarelli M. - Auxin and jasmonic acid interaction in the control of late stamen development in Arabidopsis thaliana




POSTERS

1.12
Termolino P., Cremona G., Aiese Cigliano R., Paparo R., Consiglio M.F., Conicella C. - Recombination difference between sexes: is histone acetylation a key control for heterochiasmy in Arabidopsis?
1.13
Mirouze M., Lieberman-Lazarovich M., Aversano R., Bucher E., Nicolet J., Reinders J., Paszkowski J. - Loss of DNA methylation affects the recombination landscape in Arabidopsis
1.14
Barcaccia G., Galla G. - The ten most cited articles published on apomixis in the last five-year period
1.15
Bernardi J., Lanubile A., Li Q-B., Kumar D., Chourey P., Marocco A. - Defective endosperm 18-encoded YUCCA1 protein is essential for normal auxin-dependent endosperm development in maize
1.16
Sangiorgio S., Gabotti D., Manzotti P., Carabelli L., Consonni G., Gavazzi G. - Genes interaction in maize endosperm development
1.17
Mazzucato A., Picarella M.E., Ruiu F. - The interaction between parthenocarpic fruit and Curl indicates a role of class I KNOX genes in tomato fruit set
1.18
Ruiu F., Picarella M.E., Imanishi S., Mazzucato A. - A transcriptomic approach to identify regulatory genes involved in fruit set of wild type and parthenocarpic tomato genotypes
1.19
Di Rienzo V., Blanco A., Montemurro C. - Characterization of grapevine yabby gene family involved in seedlessness
1.20
Cirilli M., Caporali S., Frioni E., Paoletti A., Rapoport H., Silvestri C., Perrotta G., Rosati A., Rugini E., Muleo R. - Olive fruit size is regulated early in the flower: morphological and molecular evidence
1.21
Tavazza R., Rey N.A., Papacchioli V., Pagnotta M.A. - Monitoring of cultivar fidelity of globe artichoke germplasm in a medium-term conservation under minimal growth conditions using SSR and ISSR markers
1.22
Pagnotta M.A., Tavazza R., Rey N.A. - Analysis of possible genetic variation induced by micropropagation in Globe Artichoke plantlets
1.23
Sandoval Prando M.A., Chiavazza P., Contessa C., Botta R. - Effect of coconut water and growth regulator supplement on the in vitro propagation of Corylus avellana L.
1.24
Grosso V., Nardi L., Farina A., Giorgi D., Aracri B., Pashkoulov D., Fatta Del Bosco S., Catalano C., Motisi A., Abbate L., Lucretti S. - In vitro propagation strategies for induction and regeneration of polyploid plants in Dendrobium phalenopsis Hybr.